OUR FIRM
KONISHI & NAGAOKA, Intellectual Property boutique firm founded by Kay Konishi and Shigeyuki Nagaoka, offers the trusty yet global IP service from the perspective of clients with reliable and highly-secured administrative infrastructure.
OUR EXPERTISE
The principals, Kay Konishi and Shigeyuki Nagaoka, each have in-depth experience in the enterprise R&D and over 18 years of in-depth experience in the fields of patent, design and trademark preparation and prosecution, as well as copyright and unfair competition related consultation. KONISHI & NAGAOKA specializes in drafting and prosecuting patent applications in the electronics, mechanical, software, telecommunication and chemical technologies, prosecuting trademark applications, as well as handling appeal and invalidation proceedings before the Japan Patent Office (JPO). Our service also covers IP enforcement aspect including infringement lawsuits in Japan and provides litigation support services for foreign litigation. Notably, our members of KONISHI & NAGAOKA have a long-experienced and full expertise in all of domestic patent drafting and prosecution, translation, foreign prosecution and IP enforcement (In more detail, please refer to Ms. Konishi and Mr. Nagaoka's bio enclosed herewith).
NON-FRUSTRATING IP PROSECUTION IN JAPAN
Seeking IP protection in Japan is no more frustrating. We have in-depth and distinctive knowledge and experience on both foreign IP practice and IP practice in Japan. Our distinguished skills also cover translation and IP litigation/enforcement. Another significance of KONISHI & NAGAOKA is highly-experienced and credible patent attorneys, staff and reliable and highly-secured administrative infrastructure. Thus, KONISHI & NAGAOKA offers persuasive and comprehensive guidance and consultation in English from the perspective of foreign practical standard during the complex course of IP prosecution in Japan with focusing the differentiation from your country. That's why we can ensure understandable, responsive and non-frustrating IP prosecution for foreign clients.


Perfect Translation Japan, Inc., also founded by Kay Konishi and Shigeyuki Nagaoka is a translation company providing IP-related linguistic service including translation of all types of IP-related documents, such as preparation of a Japanese translation of a PCT application, translation of Japanese prior art references and proofreading of translated IP-related document in Japanese.
THE MOST CREDIBLE TRANSLATION
Who to translate? In our Company, translation of foreign language documents is not done by anonymous. Instead, our translation is conducted by responsible in-house members (most of them being patent attorneys) who have full expertise in not only a technological English but also drafting patent claims/specifications, domestic prosecution and foreign prosecution under the strict quality control. That's why our Company promises foreign clients no lost-in-translation with reasonable cost.


Our firm offers the highest level of service and responsiveness for all clients, foreign and domestic. Clients seeking to obtain the strongest IP protection available have come to rely on Ms. Konishi's and Mr. Nagaoka's expertise and track records of success. Overseas clients will especially appreciate Ms. Konishi's and Mr. Nagaoka's unsurpassed ability to explain complicated procedural matters in a clear fashion in English. KONISHI & NAGAOKA is always with clients.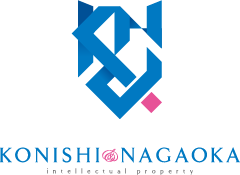 KONISHI & NAGAOKA's logo, which comes from the two principals' initials, "K & N", aims to imply the motif of "shield" which protects our clients any IPs including an idea, a design and a brand. It is true that an offense is the best defense. Our logo also expresses our dream come true that our client will win the game of business with its maximized IP through our support as the "shield".